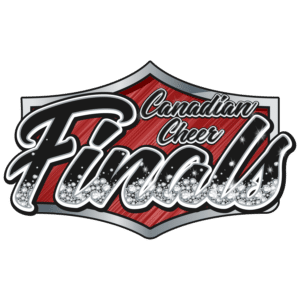 April 14 , 2024
Niagara Falls Convention Centre,
Niagara Falls, ON
The Final chance to prove you're the best in Canada! For the 2024 season, 40+  teams from Levels 1-4 may be invited to vie for the chance to take home an iconic jacket and be crowned Canadian Finals Champion.
Canadian Finals is an Invitation Only Event.
Teams qualify at designated Canadian Cheer and Event Partner events, with a number of invites allocated to each event as outlined below.
Teams will compete across their level first, with level champions being re-adjudicated by video to determine the top team and Canadian Finals Champion.
Level Champions receive an iconic jacket and the Canadian Finals Champions will the Canadian Finals ring…. and bragging rights.
The final chance to prove you're the best in Canada! These teams from Levels 1-4 have been invited to vie for the chance to take home an iconic jacket and be crowned Canadian Finals Champion.
April 14, 2024
Doors Open: TBA
Stayed tuned for backstage and practice gym sneak peaks during the breaks in the performance schedule.
Click the button below "Get Advanced Tickets for Canadian Finals".
Select the tickets you need (see FAQ below for info on who needs a ticket).
Show your QR code at one of the two Redemption locations at the venue.
*** 2024 PRICES TO BE ANNOUNCED ***
Age: 13+
Pricing Details: TBA

Age: 6-12 or 65+
Pricing Details: TBA
Spectator Admission Details:
*** 2024 DETAILS SUBJECT TO CHANGE ***
In lieu of paper tickets all spectators will be given wrist bands upon purchasing access to the event.
Wrist bands must be worn for the duration of the weekend. Unfortunately we will not be able to replace misplace wrist bands. All wristbands are waterproof.
Athletes and coaches participating in the National Championships or Face-Off will have complimentary access to Canadian Finals.
Spectators will be permitted access to the building's lobby without having purchased a ticket.
Please note that all athletes will be required to pick up their wrist band from a team coach before being granted access beyond the lobby.
Individual athletes will not be permitted to pick up wrist bands, with the exception of parent athletes.
Yes, tickets will be available for purchase on-site.
There can be long lines, however they move steadily. Please plan your arrival time to allow for ticket line ups.
Canadian Finals tickets have a limited inventory and will be sold on-site if inventory allows.
Athletes and coaches participating in Nationals can use their athlete/coach wristband to watch Canadian Finals, no separate ticket is required.
For spectators, the ticket for Canadian Finals is a special event ticket that is separate from Nationals day passes.
Children 5 yrs and under are FREE!
No, Canadian Finals will not be live-streamed. This is an in-person-only event and will not be made available following the event. Get your tickets now to join the action!
There is pay parking at the Niagara Falls Convention Centre.
Canadian Cheer does not receive monetary compensation for parking.
We strongly encourage spectators to leave their vehicle at their hotel if possible. Don't forget your umbrellas!
For more information on parking please visit the venue's parking-specific web page. Additionally, you can reference the map on the last page of your event information package. The enclosed map also outlines the layout of the convention centre for the weekend.
Please note that spectators may enter the parking lot from either Stanley Ave or Dunn St but the exit to Stanley Ave is reserved for buses only. All other vehicles must exit the lot onto Dunn St.
Canadian Finals is slated for Sunday morning at approximately 9:00 AM – 8:30PM. The tentative performance schedule will be posted under the "Schedule" tab. As changes are made, the schedule will be updated and all coaches will receive an email notifying that the schedule has been updated.
Although all Canadian Cheer events are known for being run precisely on-time, unforeseen circumstances sometimes cause times to shift slightly. We will always attempt to ensure that this does not affect any teams negatively.
Canadian Finals Awards will take place following the competition in Hall A.
Within the Convention Centre there will be a variety of food options available throughout the duration of the event.
Food and beverages will be available for purchase throughout the venue.
Full buffet and Team dining options are available upstairs in the Port Colborne lounge.
Outside food and drink will not be permitted in the venue.
Visit the Niagara Falls Convention Centre Information Desk to pick up your Advantage Card and enjoy deals around the city!

FREE

for all parents, spectators, coaches and athletes!
In the spirit of sportsmanship Canadian Cheer is following suit with many large American companies and enforcing a non-recruitment policy.
Solicitation of athletes will not be permitted in any of the following form (but not limited to): signs, t-shirts with try-out dates, athlete gifts, handouts, etc.
Please keep in mind that casual conversations can be interpreted incorrectly so please be mindful.
Thank you for attending the Canadian Finals! We are very excited to be back at the Niagara Falls Convention Centre!
Updated competition information and Performance Schedule will be posted under the above "Schedule" tab.
Included on this page are important details about the event and the facilities including warm‐up facilities, parking information, where to drop off athletes, athlete/coaches credentials, how to pick up athlete gifts, judging panels, legalities, grand champion awards and information regarding collection of waivers and coaches codes of conduct.
Please also be aware of our inclement weather policy and refund policy and procedures as posted on the above menu under "Event Registration Policies".
On the day of the competition, please feel free to approach any of the Canadian Cheer Staff should you have any questions or concerns. Prior to the competition day, please email abbey@canadiancheer.com for any registration issues or marcy@canadiancheer.com for scheduling and legalities questions.
Canadian Finals is an Invite-Only All-Star Event
There are 2 ways to qualify:
Receive an invite at a designated Canadian Cheer Event Partner event. The number of invites allocated to each event is outlined in the link below.
Receive a Wild Card invite on March 15th, 2023 (see Wild Card details in the link below).
Teams that have the highest score in their level will be considered.
If levels are split across panels or separated throughout the day, judges will be consulted to directly compare the top scoring teams from each panel/session.
If Level A has stronger scores than Level B, it is possible that multiple teams from Level A will be awarded invites (unless it is specified that each level will receive a specific number of invites such as at Showdowns).
If Level A and Level B are adjudicated on different panels, it is possible that a team fromLevel A may receive an invite but have a lower score than the highest scoring team on Level B. Differentiations in top scores between panels will be considered when reasonable.
Canadian Cheer has evaluated the participation level of teams in Level 4.2 and Level 5 from events leading up to the Wild Card invitations on March 15th, 2023. At this time there are 12 teams registered in all qualifying events that are in either Level 4.2 or non-worlds Level 5.
A minimum of 20 unique teams in each level will be required to have participated throughout the event season for the level to be considered for inclusion in Canadian
Finals (note: Level 5 non-worlds teams are only considered, must not by vying for a bid).
We do not anticipate that Level 4.2 or Level 5 will be included in this year's Canadian Finals due to low participation in these levels in comparison to Levels 1-4.
This statement means that if the strength of the teams attending the event and the level of participation at the event warrants handing out additional invites, the event may award up to the listed number of additional invites.
Discretionary level refers to the event producer's ability to select the levels from which the invites are pulled.

Considerations for choosing a level include:

# of teams already receiving invites in that level
Exceptionally strong teams competing at the designated event in that level making the field of play for that level very strong

Teams will still be selected by score, see details about "highest score" above for further information.
Program Representation:
We strive to maintain the high standards required to participate in Canadian
Finals while also recognizing the need for diverse program representation.
If two teams have very similar scores and skill level, the deciding factor may be
the inclusion of a different program.
If invites are being awarded at a specific event, the event schedule will outline when the invites are being awarded (ie which awards ceremony). Partner events may indicate the awards times differently so please check with the Event Producer.
Wild Card invitations will be awarded on the specified date via Instagram/social media.
Athletes may only crossover 1 level up or down to any team attending Nationals and/or attending Canadian Finals.
If Level 4.2 is added, these crossover conditions will be modified for L4.2 only.